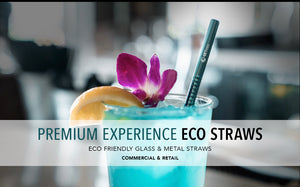 HOW CAN RESTAURANTS CLEAN STEEL STRAWS
Cleaning steel straws is any high-volume restaurant can be a challenge.  Traditionally it takes a lot of time and costly man power to really clean them and who has the time or desire to pay someone to run a brush through every straw?
COMMERCIAL DISHWASHER 
Place used steel straws into the patented 4RTides commercial dishwasher safe caddy
Place the caddy into a slot in the glass rack or on a flat pan. The 4RTides caddy is designed to stand your straws upright, allowing water flow through your straws.  Simply placing them into a utensil rack will not allow enough water to pass through the inner lumen of the straw because your straws will be leaning to the side.
Rinse straws on a high temperature cycle to ensure proper cleaning and sterility. 
Once cycle is complete, simply place the straw caddy onto a drying rack and allow time for them to dry and cool down before reuse.
Place 4RTides caddy, loaded with clean straws, back onto your bar top and enjoy!
---